---
By Ty & Charlene Bollinger, November 10, 2021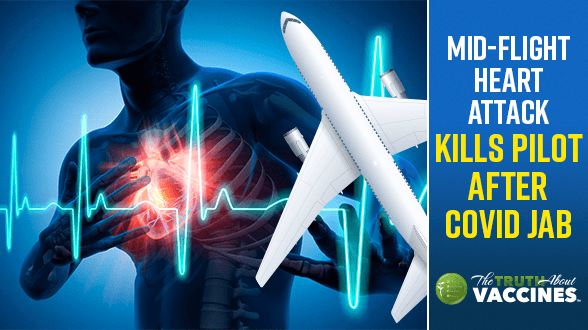 TTAV is experiencing heavy censorship on many social media channels since we've been targeted by the mainstream media sellouts, social media bullies, and political turncoats.  Be sure to get the TRUTH by subscribing to our email list.  It's free.

Last month, an American Airlines pilot died suddenly during a red eye flight from Phoenix to Boston. 4 hours into the flight, Four hours into the flight, the co-pilot announced that Captain Michael Johnston "wasn't feeling well." Passengers were unaware that their captain had died until after they made an emergency landing in Syracuse, New York
Those on board knew something was wrong when a woman's "quivering" voice came over the intercom, alerting them that the pilot was sick, passenger Peter McSwiggin told WCVB. "If it wasn't for the copilot using a cool head," McSwiggin said, "it might have been more disastrous."
The heroics of the copilot notwithstanding, questions remain unanswered.
It is rare for a commercial pilot to die midflight — something that has only happened six other times in the last two decades. Pilots are required to retire by age 65, and get yearly physicals. Johnston's wife, BJ, says her husband had a double bypass surgery in 2006. Since that time he has been required to get a physical every 6 months to make sure he was healthy enough to fly.
"He seemed fine," she said.
An autopsy and preliminary toxicology tests "showed that the death was the result of natural diseases," the Onondaga County, New York, medical examiner's office said – without offering specifics. NBC later reported that Johnston has died of a heart attack.
But Johnston is not the only commercial airline pilot to experience a fatal cardiac event mid-flight over the last month.
On October 15, American Airlines Flight 2740 was travelling from Dallas/Fort Worth International Airport to Fort Meyers when the unthinkable happened. As the plane began a gradual descent toward southwest Florida, the pilot in command began convulsing and had a cardiac arrest. Fortunately, the aircraft was still on autopilot, giving the co-pilot time to evaluate the situation, unharness himself, pull the pilot from his seat, and try to administer CPR. But his efforts were in vain.
The co-pilot returned to his seat and squawked 7700, the international transponder code for "I have an emergency." The plane landed safely, but the co-pilot was put on administrative leave for having left his seat and endangering the aircraft, our source said.
"It was later determined that the pilot had a fatal heart attack caused by myocarditis, a known side effect of the Covid-19 vaccinations. He had received his second dose of the vaccine two weeks before that flight. His last full physical was three months prior, and his doctor had given him a clean bill of health," a source told The Australian National Review.
Yet another pilot fatality took place a week later, and it, too was a departure from Dallas/Fort Worth. American Airlines Flight 971, an Airbus A321, departed DFW for LAX at 8:00 a.m. Midway through the flight, the co-pilot complained he had chest pains but chalked it up to having eaten a spicy meal before departure. He told the captain it was indigestion. As the plane flew at 32,000 feet over the New Mexico/Arizona state line, the co-pilot started convulsing and vomiting on the flight controls. At that point, the captain contacted Air Traffic Control, requesting permission to swing around and make an emergency landing in Albuquerque, NM, but the Controller, after consulting American Airlines, denied the request and compelled the captain to complete the flight to LAX.
The co-pilot died in his chair, also from acute myocarditis. He had gotten his second COVID shot (the Pfizer/BioNTech concoction) 21 days ahead of that fateful flight.
"The PIC [Pilot In Charge] was put under a gag order and told not to discuss the incident with anyone under threat of losing his job," the source said. "There is a systematic effort going on right now to prevent the public from knowing about pilots getting very ill or very dead in the air. The airlines don't want to lose money, and the administration doesn't want the public to know the true dangers of the vaccine. I know for fact that Secretary of Transportation Pete Buttigieg ordered the airlines to classify incidents involving pilot deaths."
The Vaccine Adverse Event Reporting System has recorded 18,078 deaths following the COVID shots as of October 29th, about 67% of all vaccine-related deaths reported since 1990.
It's estimated that fewer than 1% of vaccine adverse events are ever reported.
Quest For The Cures [FINAL CHAPTER] NOW PLAYING. Don't miss it!
Click Here to Register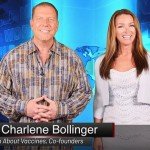 About Ty & Charlene Bollinger
Ty & Charlene Bollinger are devoted Christians, health freedom advocates, health researchers, documentary film producers, and best-selling authors.After losing several family members to conventional cancer treatments, they set out to learn the truth about cancer and the cancer industry, working together tirelessly to help others to learn the truth that sets them free to live healthy, happy lives.Ty & Charlene's heartbreak and grief coupled with their firm belief that conventional medicine did NOT offer the most effective treatments available, led them on a path of discovery. On their journey, they interviewed cutting-edge scientists, leading alternative doctors, and groundbreaking researchers to learn about hidden treatments. As they dug deeper, they couldn't ignore what they saw: vaccines are hurting our children. What they uncovered helped to create multiple awe-inspiring docu-series including The Truth About Vaccines.Ty & Charlene speak frequently at seminars, expos, conferences, and churches. Together, they host a biweekly internet news program: TTAC Global Health News. After losing several family members to cancer, Ty & Charlene began a quest many years ago to learn all they possibly could about natural health and the medical industry. What they uncovered was shocking. Most of what we know about treatment and healing is a lie and the multinational pharmaceutical companies are running the show.There was nothing more important to them than the health and safety of their children… and as they dug deeper, they couldn't ignore what they saw: vaccines are hurting our children and corporations are making billions from these virtuality "un-tested" vaccinations.They have produced several documentary series including: The Truth About Vaccines™.In total, these documentary films have been viewed by over 20 million people worldwide. Ty & Charlene speak frequently at seminars, expos, conferences, and churches. Together, they host a biweekly internet news program called Global Health News.
Reader Interactions
Footer
ABOUT US
Parents should be informed about both the benefits and the risks associated with vaccines — without pressure, propaganda, or agenda.
So we brought together more than 60 of the world's foremost health experts to investigate both sides of this contentious debate to give you the science, the history, and the untold story… the REAL information you need to make an informed decision on how to best protect your child.
THE TRUTH ABOUT VACCINES 10 EPISODE DOCU-SERIES